Best Automatic Portable Air Pump for Tyre
Are you looking for the best automatic portable air pump and tyre inflator for your car, bike or SUV? If so, you have come to the right place. In this blog post, we'll be discussing the features and benefits of the best automatic portable tyre air pumps and tyre inflators, as well as how to choose the one that is right for your vehicle. We will also provide our top picks for the best automatic portable tyre air pumps and tyre inflators available on the market today.
Top 5 best automatic portable air pumps for tyre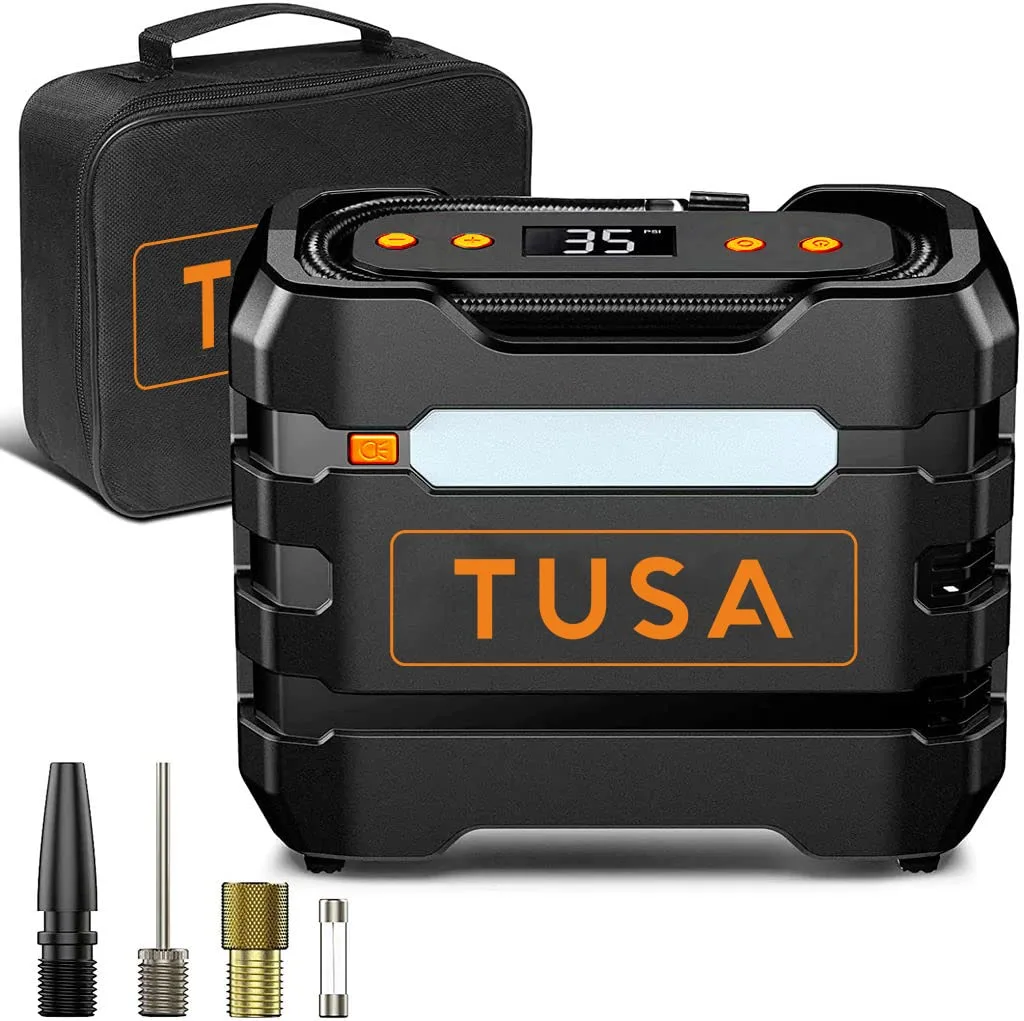 TUSA Portable air pump is an upgraded version and it can inflate tyre from 0 to 35 PSI within less than 4 minutes. Best part of this portable air compressor is that it can be used continuously for 30 minutes without resting the machine.
Very simple to operate, just have to clamp the clip to the tyre, set the desired pressure and press the power button. The tyre inflator automatically turn off when the desired air pressure is achieved.
The long power cable cord of 10 feet and 2.5 feet air hose is long enough to reach the tires of all kinds of cars.
It is equipped with 3 bright LED lights for repairs at nights. It also has 2 red LED lights which can be helpful as warning signals for upcoming cars.
Pros
Fast tire inflating from 0 to 35 PSI < 4 minutes
30 minutes continuous use without resting the machine
10 feet + 2.5 feet cable is more than sufficent
Good product with extreme low noise
This powerful small tyre inflator offers up to 150 PSI of pressure, making it perfect for pumping up your tyres quickly and efficiently.
AGARO Digital AC/DC Portable Tyre Inflator has a powerful 120 watts motor. Works on both AC or DC power supply..
This tyre inflator comes with 4 meters long power cord and 75cm long hose pipe, which is long enough for inflating the front and rear tyres.
Super bright LED flashlight makes this car air pump suitable for roadside emergency at night time.
Pros
Dual power options 12V DC/ 230V AC
Great value product
Comes with clip-on nozzle
Cons
AC power cord is bit small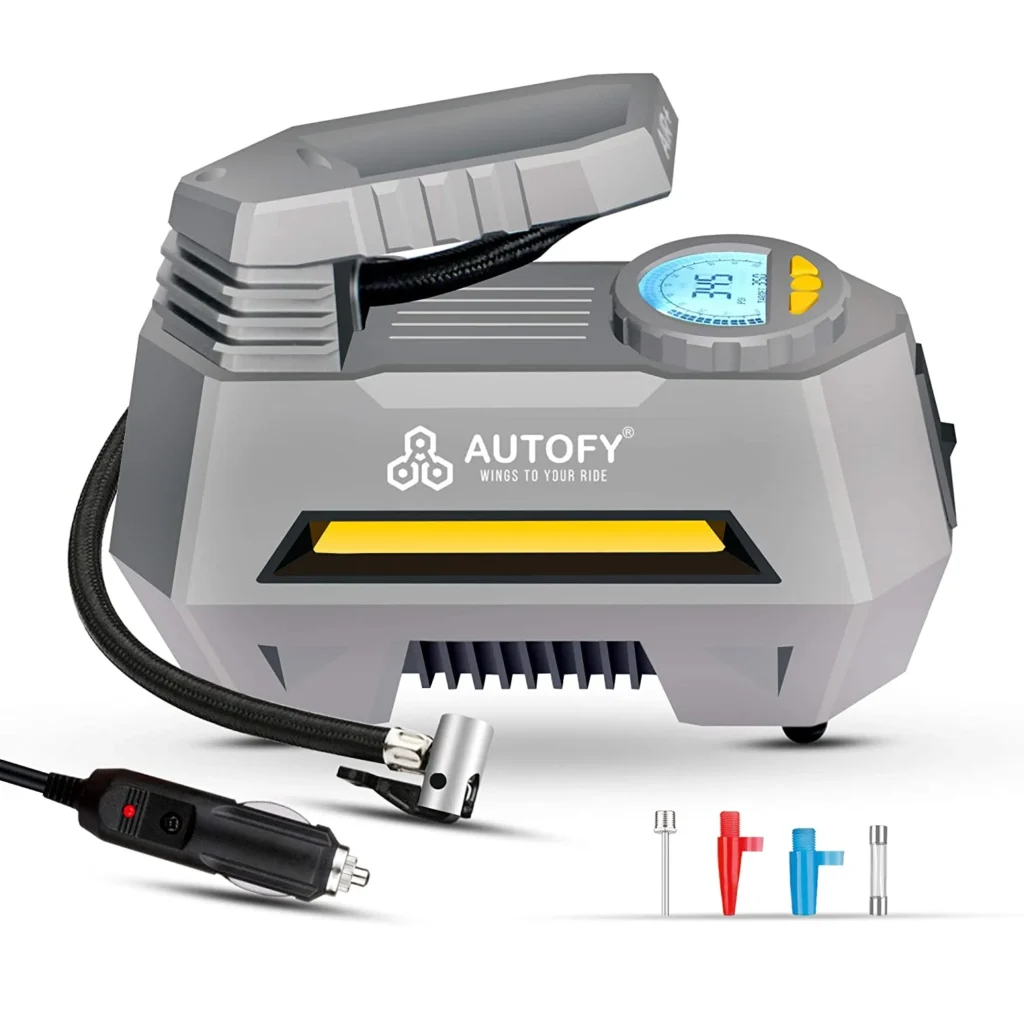 This portable air pump is a great choice for those who want an easy-to-use solution that doesn't take up much space. It comes with advanced Digital & Analog display that shows the exact pressure of your tyres and the ability to inflate them to a specific level. It also has an LED light for use in low-light situations.
Pros
Advanced Digital & Analog display
Very sturdy and reliable product
Readings are accurate
Extremely light and compact product
Cable is long enough to fill stepney tyre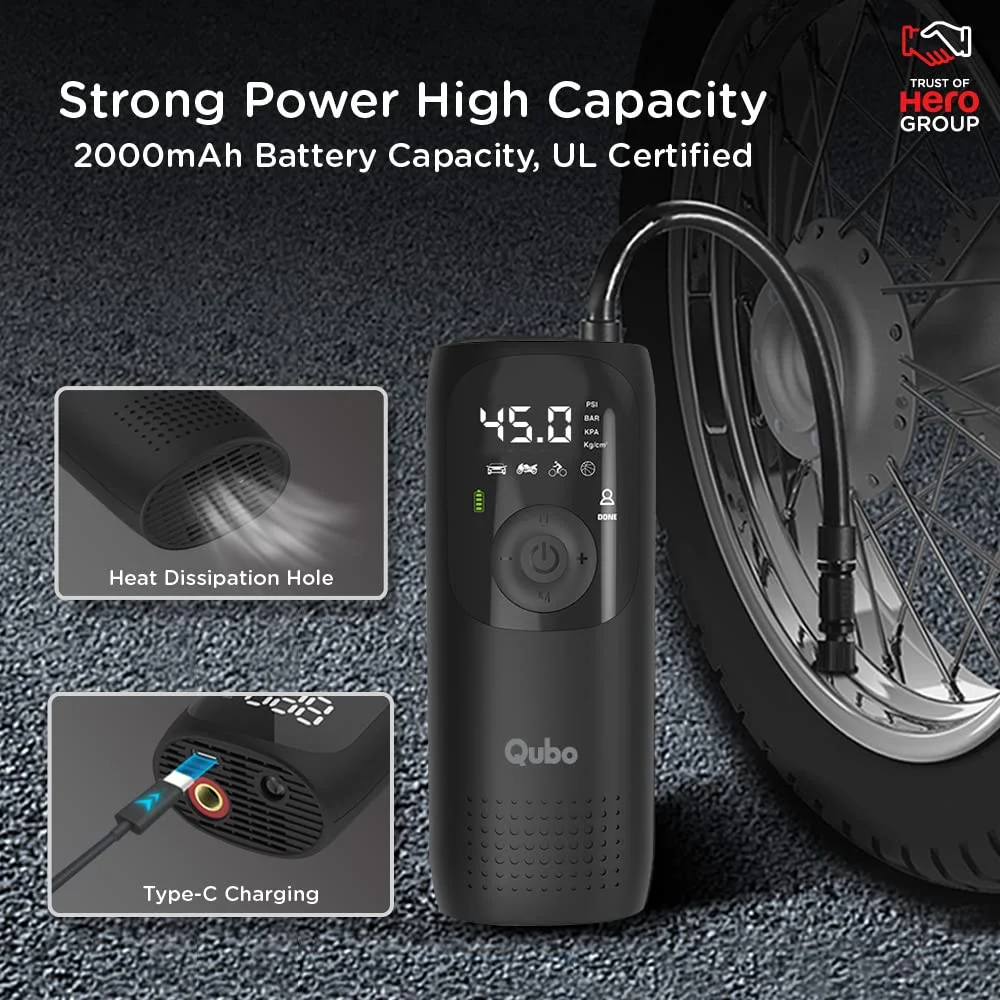 Qubo Smart battery operated tire inflator is a great choice for those looking for a compact solution. This portable pump comes with three air nozzles and an LCD display that shows the current pressure of your tyres. It also has an LED light for night time and SOS flashing feature for emergency. It can also be used as battery pack to charge mobiles.
Pros
Fully inflate 2 car tires
Top up car tires 8 times
SOS flashing feature for emergency
Type-C Charging port
2000 mAh Battery
Value for money product
Cons
Slightly heats up on 5 min continue work
---
How does an automatic portable air pump for tire work?
An automatic portable tyre air pump is a small, convenient and powerful device that quickly inflates your tyres to the recommended air pressure. They usually come with a digital display which allows you to monitor the current air pressure in the tyre.
The air pump is powered by a rechargeable battery or car plug socket and features an automatic shut-off mechanism to prevent over inflation of the tyre.
The air pump will automatically detect the correct pressure for your tyre based on the size and type of tyre being inflated.
It works by compressing the air inside a chamber and then pushing it through a small valve, which is usually located near the handle of the air pump.
This valve controls the flow of air, allowing it to be released in small increments until the desired pressure is reached.
How to choose the best automatic portable air pump for your needs.
When it comes to choosing the right automatic portable tyre air pump for your needs, there are a few key factors that you should take into consideration. The first thing to think about is the size of the air pump and whether it is easy to transport.
Depending on how often you plan on using it, a smaller, more compact air pump may be a better choice if you are only going to use it occasionally.
Additionally, some pumps come with a rechargeable battery that can be used for extended use away from an electrical outlet.
In terms of power, you want to make sure that your portable air pump has enough power to inflate your tyres in a reasonable amount of time.
Some portable air pumps can generate up to 160psi, which is sufficient for most vehicles. However, if you drive a larger vehicle, then you may need to opt for a more powerful option.
Finally, you should also consider the type of valve your portable air pump supports. Many models only support Schrader valves, but some offer additional options such as Presta valves and even some bicycle-specific designs. It's important to make sure your pump will work with the valves on your tyres before making a purchase.
Conclusion
Overall, when shopping for an automatic portable tyre air pump or small tyre inflator, make sure you pay attention to size, power, and the type of valve it supports in order to find the best product for your needs.