Wooden World Map: A Unique Decor for Home
Are you thinking for a distinctive, eye-catching wall decor piece for your home? Look no further than the 3D wooden world map. This beautifully crafted map combines the charm of natural wood with the intricate details of a world map, creating a stunning wall art that will instantly become the focal point of any room. The 3D wooden globe map is certain to capture your interest, whether you're a fan of travel, geography, or just distinctive and beautiful home décor. In this article, we'll examine the astonishing piece's beauty and adaptability and see why it should be part of every home.
Why Choose a 3D Wooden World Map?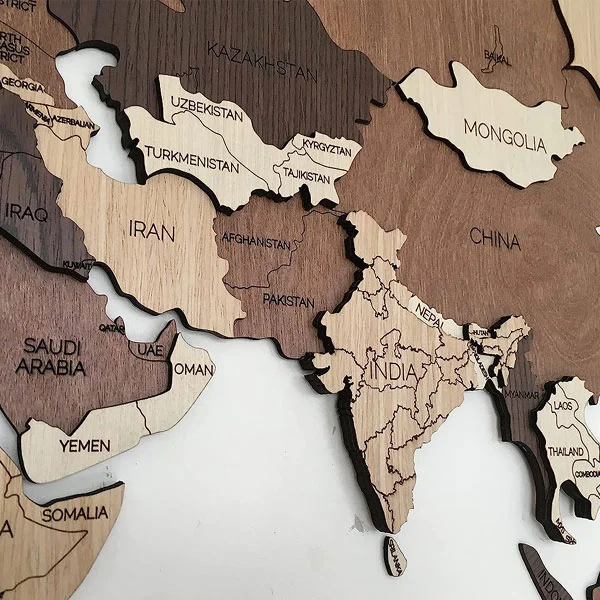 1. Unique and Eye-Catching Design of Wooden World Map
The 3D wooden world map stands out from traditional wall art with its three-dimensional design. Crafted from high-quality wood, the map features intricate contours and details that bring the world to life. Each continent, country, and island is carefully carved, providing a realistic representation of our planet's geography. This one-of-a-kind 3D Wooden World Map gives your walls depth and texture, providing a visually beautiful focal point that engages guests and grabs their attention.
2. Versatile and Customizable
One of the key advantages of a 3D wooden world map is its versatility. You may pick the map size that matches the space available, as these maps comes in a variety of sizes. There is a size that will work for you whether you have a vast empty wall or a small area that needs some décor. Furthermore, these maps come in a variety of wood finishes, including oak, walnut, and bamboo, enabling you to adapt the map to your current décor style.
Furthermore, some 3D wooden world map come with additional features that enhances their functionality. For example, some maps include magnetic pieces or push pins, allowing you to mark the places you've visited or plan to visit. This interactive element adds a personal touch to the map and makes it a great tool for tracking your travel adventures.
3. Educational and Inspirational
The 3D wooden world map is not only a beautiful piece of art but also has an educational value. The map provides a fun and engaging method to learn about the world, regardless of whether you have kids or you yourself being a lifelong student. You can use it to teach geography, learn about different countries and cultures, or even plan future trips. The wooden map's components add to the learning process and make it more memorable, allowing you to fully immerse yourself in the beauties of our globe.
4. Easy to Install
Installing a 3D wooden world map is a breeze. Most maps come with easy-to-follow instructions and all the necessary mounting materials. Once installed, the map will stay firmly in place, becoming a seamless part of your home decor.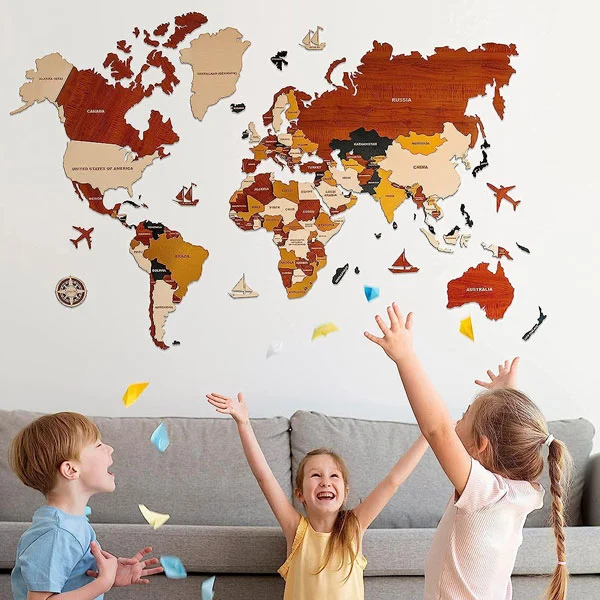 How to Choose the Right 3D Wooden World Map for Your Home?
When selecting a 3D wooden world map, there are a few factors to consider:
1. Size and Scale
Consider the available wall space in your home and choose a map that fits proportionally. Measure the wall area where you intend to install the map to ensure a perfect fit. Keep in mind that larger maps will make a bolder statement, while smaller ones can be ideal for more compact spaces.
2. Wood Finish
Choose a wood finish that complements your existing decor style. Consider the color palette and aesthetics of the room where you plan to display the map. Options like oak, walnut, or bamboo give a variety of tones and textures that can improve the room's overall appearance and feel. Select a wood finish that harmonizes with your interior design and creates a cohesive atmosphere.
3. Level of Detail in Wooden World Map
Pay attention to the level of detail on the map. Some 3D wooden world maps feature intricate carvings that showcase the contours, rivers, and mountain ranges of each region. These highly detailed maps can be captivating and provide a rich visual experience. However, if you want a simpler, more minimalist style, you may choose a map with fewer elements that yet effectively conveys the idea of the continents and nations.
4. Wooden World Map additional features
Consider any additional features that may be included with the map. Some 3D wooden world maps come with accessories like magnetic pieces or push pins, as mentioned earlier. These features allow you to personalize the map by marking your travels, highlighting dream destinations, or showcasing your favorite places. Determine if these extras align with your preferences and how you plan to interact with the map.
5. Quality and Craftsmanship
Last but not least, be sure to select a top-notch map that has been carefully and precisely constructed. Look for maps made from durable wood materials and finished with a protective coating to ensure longevity.
By considering these factors, you can choose the perfect 3D wooden world map that matches your style, preferences, and the ambiance of your home.
Conclusion:
The 3D wooden world map is a unique and captivating decor piece that adds personality and style to any home. It also adds educational value for kids. It also stands out as an exceptional choice for wall decor with a visually striking and meaningful representation of the world. By considering the factors mentioned above and selecting a high-quality map, you can create a stunning focal point that sparks curiosity and inspires wanderlust. Explore the world from your own home with a 3D wooden world map!
Frequently Asked Questions (FAQs)
1. Are the 3D wooden world maps difficult to install?
No, most 3D wooden world maps come with detailed installation instructions and all the necessary mounting materials. They are user-friendly and easy to install with basic tools available at home.
2. Can I remove the map from the wall without causing damage?
Yes, the maps are typically removable without causing damage to the wall. Using caution and care during the removal process will help ensure a seamless transition without any marks or residue left behind.
3. Can I customize the map with my own colors or markings?
While the maps typically come in pre-defined wood finishes, some manufacturers may offer customization options. It's best to check with the specific seller or manufacturer to inquire about customizations. As for markings, many maps include additional features like magnetic pieces or push pins that allow you to personalize and mark specific locations.
4. Are the maps suitable for educational purposes?
Absolutely! The 3D wooden world maps are excellent educational tools. They provide a tactile and visual representation of the world, making it easier to grasp geographic concepts and explore different regions.
5. Can I clean the map?
Yes, you can clean the map using a soft, dry cloth or a gentle wood cleaner. Avoid using harsh chemicals or abrasive materials that may damage the wood or finish. Regular dusting and occasional cleaning will help maintain the map's appearance and keep it looking its best.