5 Best Foot Massager in India for ultimate relaxation
Hello friends, feeling tired and having aches in feet after spending long hours at work. A soothing massage with foot massager will help you relax. A foot massager is an effective therapeutic instrument that may deliver immediate comfort, encourage relaxation, and improve overall foot health. A foot massager is more than simply a luxury item.
The good news is that there are superb foot massagers on the market that may be a great investment towards a better and more peaceful life.
Today in this guide, we'll help you choose the best foot massagers in India, which is perfect that suits your needs and preferences.
Top 5 Foot Massagers in India for 2023
1. RENPHO – Shiatsu foot massage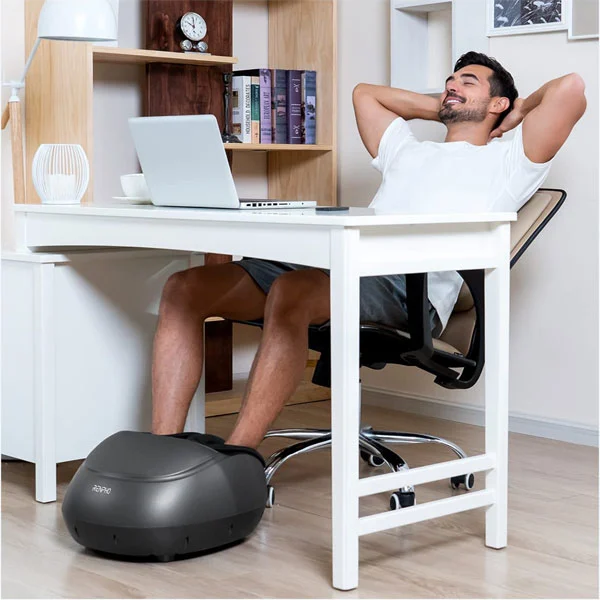 If you seek the pinnacle of foot care products, RENPHO has you covered. Their corded electric device is a premium choice designed to provide comprehensive and luxurious foot massage therapy. The machine features rotation balls, rolling stocks, and adjustable intensity massage programs with optional heat settings, giving you a personalized experience.
The RENPHO foot massager machine, which includes a spinning ball, a rolling stick, and heating, provides a deep kneading Shiatsu foot massage. The ergonomic design ensures a thorough and comfortable massage. Personal preferences can be accommodated by adjusting the kneading and squeezing intensity.
---
2. Lifelong LLM99 Foot and Leg Massager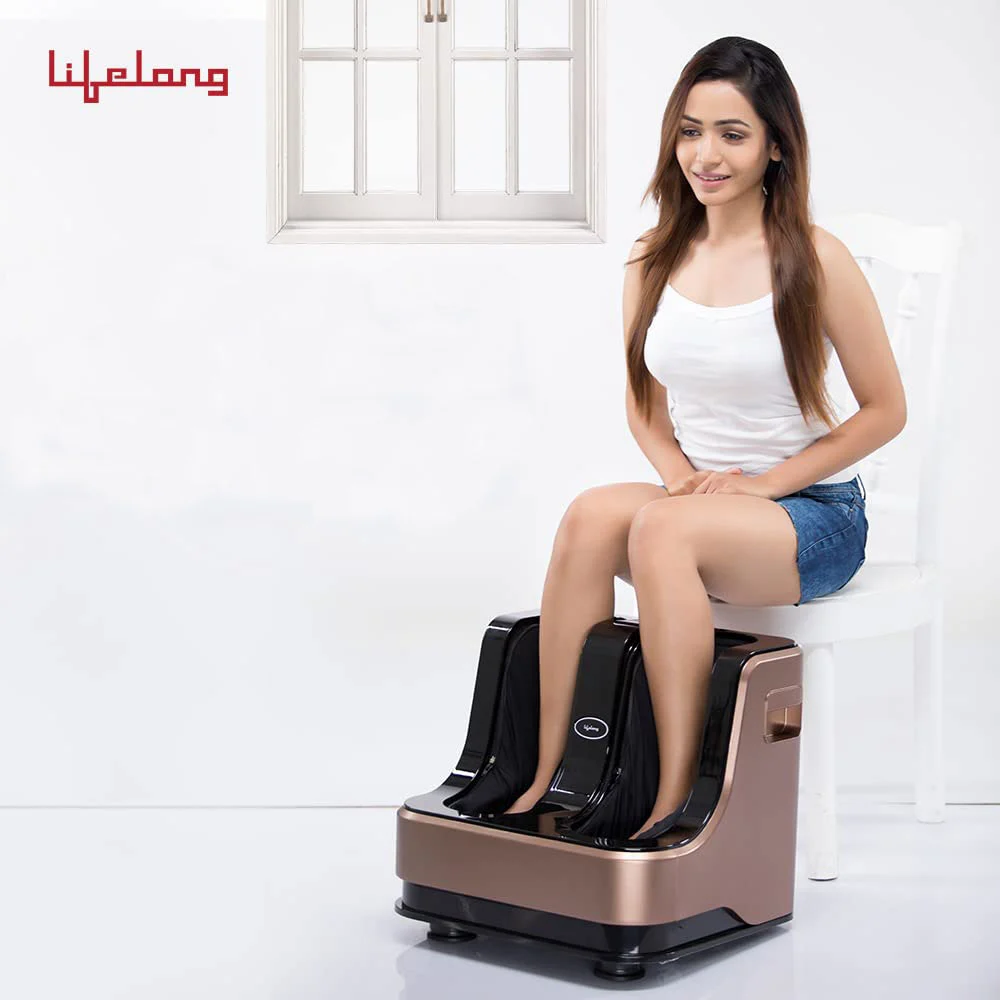 The Lifelong LLM99 Foot and Leg Massager effectively remove leg fatigue by stimulating pressure points on the soles. Powered by four copper motors, this massager offers a 3D biometric massage with kneading and rolling motions. Lifelong LLM99 has manual, automatic, and custom modes to target specific pressure points of the foot for a truly relaxing experience. The massager is designed with durable materials, ensuring a noiseless operation.
Lifelong Leg Massager has 3 preset Auto programs and 3 Personal Preference Programs setting with 4 motors of 80W power. The customizable massage modes – kneading, vibrating, rolling, heating programs helps in relieving muscle tension and aids better blood circulation.
---
3. AGARO Electric Shiatsu Foot Massager
AGARO is a brand known for its innovative products, and their electric Shiatsu foot massager is no exception. With a kneading function for pain relief, this massager delivers a soothing and enjoyable massage experience. Featuring four adjustable speeds and three custom modes, the device targets specific pressure points around your feet, ankles, toes, and arches.
The long power cord and its ergonomic design allow you to enjoy a deep tissue massage in the comfort of your home or office. It can be used while sitting on a chair or lying on a bed to massage different parts like Calves, Arms and Hamstrings.
This shiatsu massager uses combination of Kneading, Rolling & Arch Scraping to help increase blood circulation & muscle relaxation.
---
4. RoboTouch Leg, Foot, and Calf Massager
RoboTouch presents a comprehensive massager that targets your legs, feet, and calves, providing complete relaxation. With multiple massage techniques, it improves blood circulation, reduces muscle fatigue, and relieves stress. RoboTouch's ergonomic design and user-friendly features make it a fantastic addition to your relaxation routine.
It's an exciting moment for your calves and feet. That also in traditional 3D fashion. It's time to pamper your legs, knees, calves, and feet with amazing, pain-relieving 3D massage therapies. It's time to literally put luxury at your feet. Reactivates the knee joints, foot, and important pressure points on the soles using a special 3D massager. Time for a foot treat!
---
5. Reach Jomo Leg, Foot & Calf Massager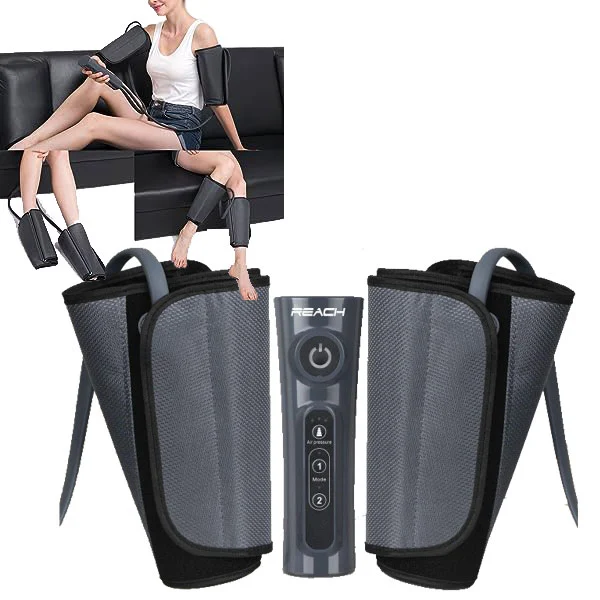 The Reach Jomo Air Compression Leg Massager is designed to deliver a 360-degree massage by inflating and deflating intermittently to relax tired muscles. The compression technique effectively reduces pain and swelling while boosting blood circulation. With three intensity levels, this massager allows you to customize your massage experience according to your needs. Compact and portable, it's a perfect travel companion for quick relief from stress and pain.
Jomo massager is powered by a 12V/1A power supply and is controlled via the handheld controller. By choosing from the 3 preset air pressure strength levels & 2 modes, It's safe and reliable to use.
---
Things to consider While buying a Foot Massager
Consider the following points while purchasing:
Massage Techniques: To adapt to your individual demands, look for a massager that offers a variety of techniques such as kneading, rolling, and shiatsu.
Adjustable Intensity Levels: Adjustable intensity levels allow you to select your massage experience as per your preferences.
Heat Function: A built-in heat function helps increase the massage's calming benefits.
Portability: Choose a portable and cordless massager if you intend to use it in multiple locations.
User-Friendly Features: An intuitive interface means that you can use the massager with ease.
Durability: To ensure lifespan, use a massager constructed of high-quality materials.
Conclusion:
Investing in the best massager can significantly improve your overall well-being.It not only relaxes and comforts, but it also cures foot pain and improves blood circulation.
Whether you opt for the RENPHO Foot Massager, Lifelong LLM99 Foot and Leg Massager, or any other model on our top 5 list, your feet will thank you for the heavenly treatment.
Now, it's time to bid farewell to tired feet and embrace the rejuvenating power of a foot massager. So, go ahead and choose the perfect foot massager that suits your needs and brings the joy of relaxation to your daily life.
FAQ – 5 Best Foot Massager in India
1. Are foot massagers suitable for people with diabetes?
Yes, foot massagers with gentle pulsing nodes are safe for people with diabetes as they stimulate blood circulation without causing harm.
2. Can foot massagers help with plantar fasciitis?
Absolutely! Foot massagers with pulsing nodes can work on the ligaments, joints, tendons, and connective tissues to relieve pain caused by plantar fasciitis.
3. Is the Lifelong LLM99 Foot and Leg Massager suitable for tall individuals?
The Lifelong LLM99 Foot and Leg Massager may not be the best fit for tall people due to its design and dimensions.
4. Can foot massagers help with arthritis pain?
Yes, foot massagers with rolling and kneading features can help alleviate arthritis pain by stimulating pressure points and improving blood circulation.
5. How often should I use a foot massager?
It is generally safe to use a foot massager for 20-30 minutes daily or as recommended by the manufacturer or your healthcare provider.