Elevate Your Audio Experience with the Best Soundbar for Home in India
Home entertainment has been increasingly important in our fast-paced modern life. Having a top-notch audio system – Soundbar for Home is essential to enhance your overall viewing experience, whether you enjoy watching your favorite movies or being drawn into engaging TV programs.
Popular audio devices labeled as soundbar offers better sound quality without the clutter of several speakers and connections.
We'll examine the best soundbars available in Indian market, going over their features, advantages, and more. Prepare to change your home entertainment with India's greatest soundbar!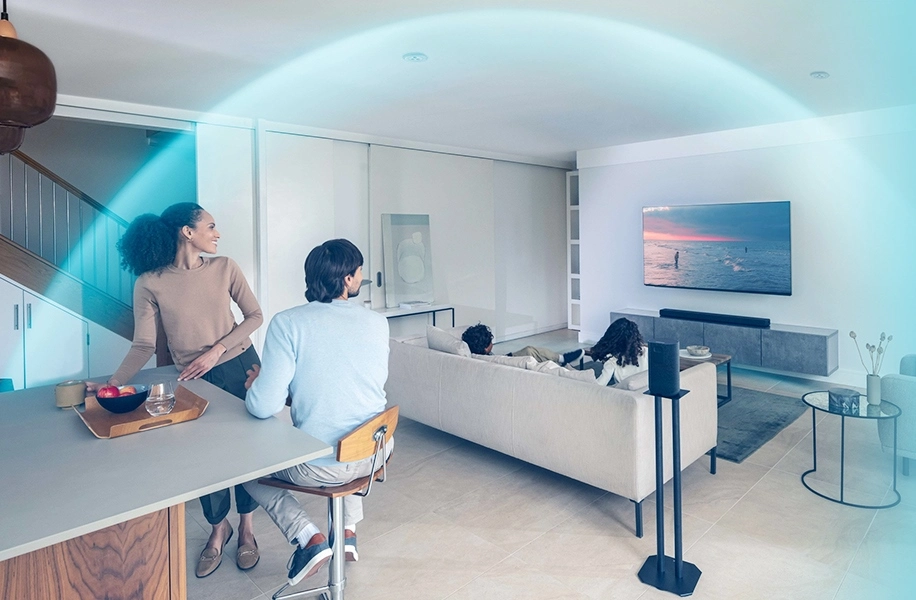 Best Soundbar for Home in India: The Ultimate Audio Companion
A soundbar is a stylish, small, and effective audio gadget that improves the audio output of your TV and creates a theater-like environment in your living room. It is an ideal addition to the entertainment system for your house because it is designed to give you a rich, immersive sound.
Advantages of Using the Best Soundbar for Home in India
Immersive Audio Experience:
Soundbars produce immersive sound that puts you right in the center of the action thanks to many speakers integrated into one device and modern audio technologies.
Compact Design:
Unlike conventional speaker systems, soundbars are designed to take up the least amount of space possible. They can also be mounted on walls or put in front of your TV, clearing up the space in your living room.
Simple Setup:
Installing a soundbar is simple. Simple wiring is not necessary because you can instantly connect it to your TV using Bluetooth or HDMI.
Versatility:
Many soundbars feature wireless audio streaming, enabling you to listen to your favorite music from a variety of devices in addition to boosting the sound on your TV.
Factors to Consider While Choosing the Best Soundbar for Home
It's important to understand the key factors to take into account when making your purchase before looking into the best soundbars on the market in India. Here are some important points to check before buying soundbar for home:
Audio Power and Quality
A soundbar's main purpose is to provide excellent audio quality. In order to experience surround sound, look for soundbars with powerful outputs and cutting-edge audio technologies like Dolby Atmos and DTS:X.
Available Connectivity
Check first if the soundbar provides USB, Bluetooth, HDMI ARC, and optical inputs among other connectivity options. This makes it possible to connect your TV and other devices with ease.
Size and design
Make sure the soundbar matches your TV and is the ideal size for your living area by giving attention to its shape and size.
Subwoofer
Some soundbars include a separate subwoofer, which boosts the bass and low-frequency sound and gives you a more powerful listening experience.
Equalizer settings and Sound Modes
Sound Modes to suit, such as movies, music, or sports. Look for soundbars with a variety of sound modes and equalizer settings.
Cost and Brand Reputation
Choose a renowned company that is known for producing high-quality audio equipment and set a budget for your soundbar.
Top 5 Soundbar for Home to Immerse Yourself in Home Entertainment
The Sony HT-S400 Soundbar is a feature-packed device that offers an immersive high-quality Dolby® Digital with S-Force PRO Front Surround. With 2.1 channel surround sound and a powerful wireless subwoofer, it delivers powerful bass and clear dialogue.
The soundbar supports X-Balanced Speaker Unit and Separated Notch Edge on the speaker unit helping to enhance vocal clarity. The soundbar HT-S400 has Bluetooth, HDMI ARC and optical input to connect it to TV and other devices. Sony HT-S400 Soundbar fits perfectly in any modern home area due to its sleek and small form.
---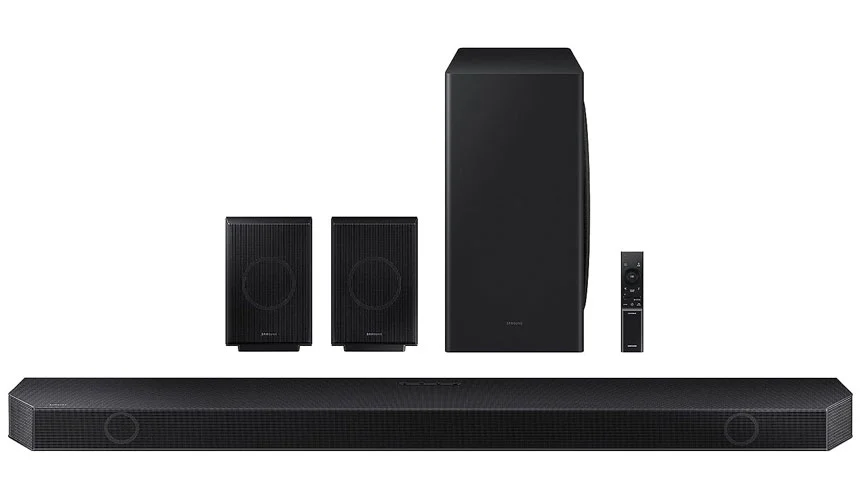 The Samsung 540 W 9.1.4ch (HW-Q930B/XL) Soundbar is a premium offering that delivers true 9.1.4 channel surround sound.
The soundbar – Samsung HW-Q930B/XL creates a 3D audio experience with Dolby Atmos and DTS:X support, making you feel like you're in the midst of every scene.
Samsung 540W 9.1.4ch is equipped with a wireless subwoofer and rear speakers, it fills the room with crystal-clear audio.
The soundbar has an adaptive sound technology, which automatically adjusts the audio settings according to the programs that is being played.
---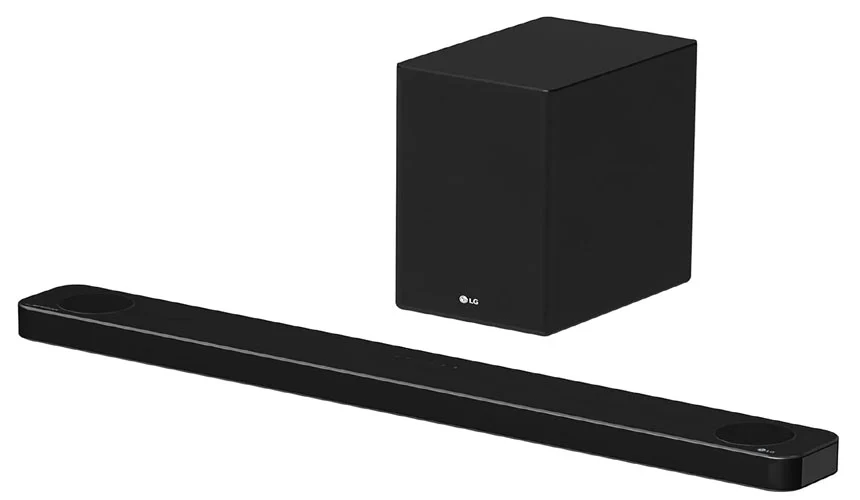 The LG SP8A Soundbar boasts a sleek and modern design with 3.1.2 channel audio.
It has Meridian Audio's cutting-edge digital signal processing system, that offers rich, clean sound.
Dolby Atmos and DTS:X are supported by the soundbar, creating surround sound that gives dimension to your music and movies.
With Google Assistant and Chromecast built-in, you can easily control the soundbar using voice commands.
---
The JBL Bar 9.1 Soundbar epitomizes versatility and potency, endorsing 9.1 channel surround sound.
A home theater outstanding sound system unlike any other is introduced by the detachable rear speakers, which deliver an authentic wireless surround sound experience.
With its compatibility for Dolby Atmos and DTS:X, this soundbar crafts a cinematic audio immersion.
Additionally, the built-in Chromecast and AirPlay 2 enable seamless music streaming from your cherished apps.
---
The Bose Soundbar 600 is renowned world-widefor its exceptional audio quality and elegant design.
The Smart Soundbar 600 is a Dolby Atmos soundbar that also has two upward-firing transducers and its own TrueSpace technology to produce startlingly immersive sound for all of your music, movies, and TV shows.
In order to produce an immersive multi-channel sound experience, Bose TrueSpace technology automatically analyzes signals other than Dolby Atmos, such stereo or 5.1, and upmixes them.
The acoustic architecture packs 5 speakers—2 upward firing speakers—into a narrow soundbar that is 27.5″ wide to disperse sound horizontally left and right, ahead, and overhead.
You can stream entertainment however you want thanks to Wi-Fi, Bluetooth, Apple AirPlay 2, Spotify Connect, and Chromecast built-in compatibility.
Powered by custom drivers and quiet port technology, it emanates sound that effortlessly fills the room, supplemented by deep bass notes.
By support of Amazon Alexa and Google Assistant, Bose 600 soundbar gives full control of the soundbar with voice commands.
---
Soundbar for Home – Conclusion:
Investing in the best soundbar for home in India can significantly elevate your home entertainment experience.
The above discussed soundbars are of superior sound quality, fashionable looks, and cutting-edge technologies, makes them the perfect audio companion for your TV. Before making a purchase, look-out for audio quality, networking possibilities, and brand's reputation.
So, purchase a top-notch soundbar and get ready to submerge yourself in the exciting world of entertainment! Bring home the best soundbar for your needs to improve your movie evenings, TV shows, and music sessions.
Best Soundbar for Home in India: FAQs
Q: What is the best soundbar for home in India for a small living room?
A: For a small living room, the Sony HT-X8500 Soundbar is an excellent choice.
Q: Can I use a soundbar with my non-smart TV?
A: Absolutely! Soundbars can be connected to both smart and non-smart TVs using HDMI ARC or optical connections.
Q: Is a separate subwoofer necessary for a soundbar?
A: While not necessary, a separate subwoofer enhances the bass performance and overall audio experience of the soundbar.
Q: Can I wall-mount my soundbar?
A: Yes, most soundbars come with wall-mounting brackets, allowing you to mount them above or below your TV.
Q: Do all soundbars support Dolby Atmos?
A: No, not all soundbars support Dolby Atmos. Look for soundbars with Dolby Atmos capabilities if you want an immersive audio experience.
Q: How do I control the soundbar settings?
A: Most soundbars come with remote controls, and some can be controlled through smartphone apps or voice assistants like Alexa or Google Assistant.