Gaming chairs are an essential investment for any serious gamer. Gaming chairs give much-needed support and comfort during long gaming sessions, and can even improve your overall gaming performance. However, finding a good gaming chair under 10000 Rupees budget can be a challenge. In this article, we will explore the top gaming chairs under 10000 that offer comfort, durability and adjustability without breaking the bank.
The Importance of a Good Gaming Chair
A good gaming chair can provide numerous benefits such as:
Improved posture and spinal alignment
Reduced fatigue and discomfort during extended gaming sessions
Better blood circulation and oxygen flow
Personalized comfort and adjustability
Increased concentration and focus
The Challenge of Finding a Budget-Friendly Gaming Chair
Most high-end gaming chairs can cost above 10,000 rupees, which can be the most important investment for many gamers. However, budget-friendly gaming chairs are increasingly becoming popular, providing similar features and benefits at an affordable price.
What to Look for in a Budget-Friendly Gaming Chair
While shopping for a budget-friendly gaming chair, it's essential to consider the following factors:
Comfort
A comfortable gaming chair should provide enough cushioning and support for your back, neck, and arms. It should also have adjustable features that allow you to customize it to your preferred posture and seating position.
Durability
A gaming chair should be sturdy and reliable, able to withstand continuous use without breaking or losing its shape.
Adjustability
An ideal gaming chair should provide adjustable features such as height, armrests, and recline angles to suit your preferred seating position.
Style
The gaming chair should have a stylish design that complements your gaming setup and personal preferences.
Top 5 Gaming Chairs Under 10000 for Gamers on a Tight Budget
Here are the top 5 gaming chairs under 10000 to consider: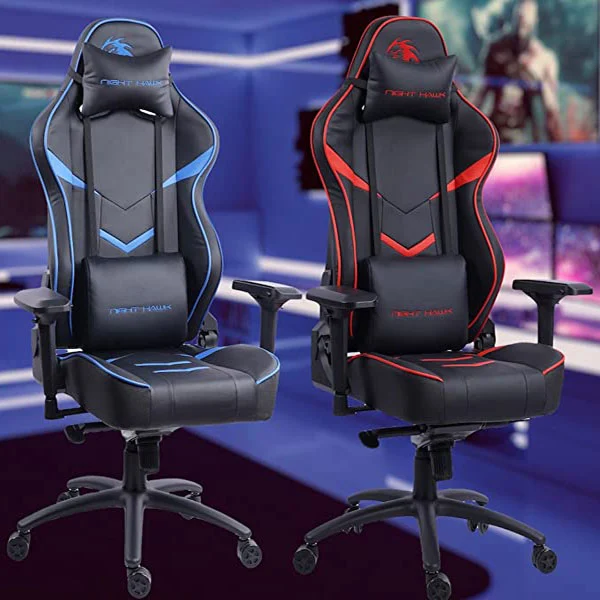 Night hawk ergonomic chair designed with sturdy metal frame gives 90 to 180 ° recliner position lock function, helps comfortable sitting position, and the seat is adjustable to ensure that each user of different heights can adjust the chair to keep you comfortable during play or work for a long time.
The Gaming chair is made of high-quality PU leather, waterproof and breathable, which are easy to clean. Its thick high elasticity sponge is way more comfortable to keep you away from fatigue.
Take your gaming experience to the next level with this fully reclining gaming chair in style and comfort.
---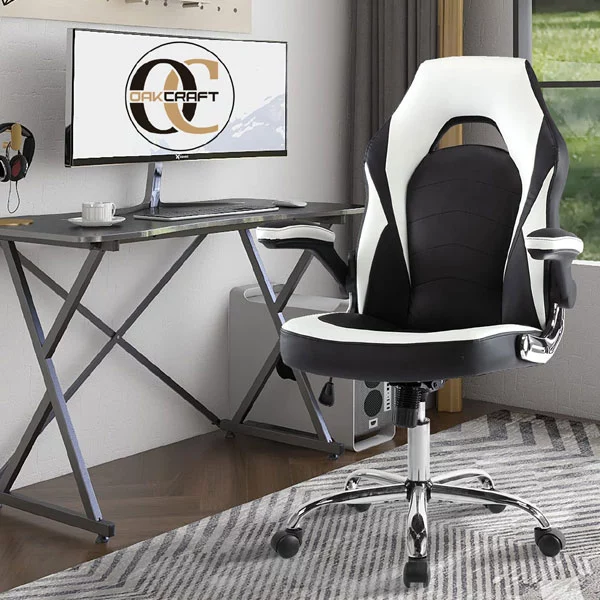 Oakcraft rocking gaming chair can be reclined at any angle between 90°-150° for working, gaming, reading or napping.
Having a solid thick steel frame, high-back ergonomic design, and heavy duty nylon base are able to withstand a person up to 180 Kgs.
Oakcraft gaming chair is thickly cushioned and covered with breathable premium PU leather, equipped with freely adjustable lumbar support which provides maximum comfort while you're spending long hours at the office, in front of the computer, or gaming.
---
The Savya thunder gaming chair has adjustable armrests, a thick molded foam seat, and soft, breathable PU leather material.
The Lumbar support & neck pillow included with thunder gaming chair are adjustable & removable, and they provide maximum comfort to your back especially during play or work for long hours.
The chair's back can be reclined to 180° if required and also provides a rectractable footrest for relaxing sessions.
Savya gaming chair has premium breathable soft fabric that allows airflow and gives a cool and comfortable seating making it more pleasant than a leather chair.
---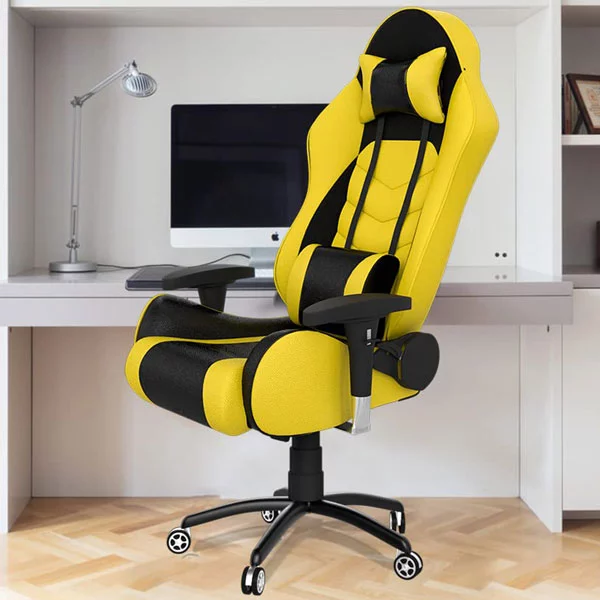 ASE gaming gold series chair's backs are ergonomically shaped to match human spine to provide necessary support and increased comfort for long sittings.
Its 180 degree adjustable recliner is great if for taking naps with additional support from memory foam pillow provided with this chair.
ASE gold series gaming chairs are sturdy having rigid steel frame support for long durability. It keeps the chair stable, comfortable and secure all the time.
---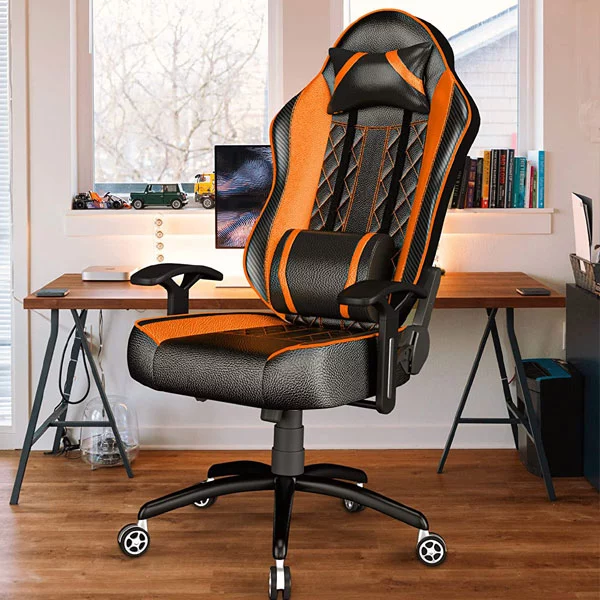 REKART Multi-Functional chair is made of high quality steel. which gives sturdiness and durabilty of the chair. The chair has thick foam padding for comfortable seating and back support. It helps you relax your body.
This gaming chair is made up of premium fabric to provide comfort and ease. The fabric is highly durable and easy to wash. Rekart chair backrest can be adjusting in 3 different angles to provide maximum comfort. It fits to your body perfectly. and easy to adjust.The unique feature of the backrest is it can be folded, If you don't want to use, for easy storage, and helps save space.
REKART Multi-Functional chair is full of unique features that gives you a wholesome unique experience while playing games on your playstation or Xbox as it has glass holder, Foldable Mic, Gaming Console Hanger, and Headphone Hanger.
---
Comparison of the Top 5 Gaming Chairs Under 10000
Here's a feature comparison chart for the top gaming chairs under 10000:
| | | | | | | | |
| --- | --- | --- | --- | --- | --- | --- | --- |
| | | | | | | | |
| | | | | | | | |
| | | | | | | | |
| | | | | | | | |
| | | | | Additional Memory Foam Pillow | | | |
| | | | | | | | Multi-Functional Ergonomic |
Based on our review of the top gaming chairs under 10000, we recommend the following:
Other Budget-Friendly Gaming Chairs to Consider
Aside from the top picks, other budget-friendly gaming chairs to consider include:
Generic gaming chairs from local or online stores
Used or refurbished gaming chairs
Non-branded, basic gaming chairs with adjustable features
How to Care for Your Budget-Friendly Gaming Chair
Here are some tips on how to maintain and extend the lifespan of your budget-friendly gaming chair:
Cleaning and Maintenance Tips
Wipe the chair with a damp cloth regularly
Use a mild detergent solution to clean stubborn dirt or stains
Apply a leather conditioner or fabric protector to maintain the material quality
How to Extend the Lifespan of Your Chair
Avoid sitting on the armrests or the backrest
Avoid overloading the chair with excessive weight
Store the chair properly in dry place
Conclusion:
In conclusion, budget-friendly gaming chairs under 10000,are a viable option for gamers on a tight budget. When making a decision, it's essential to consider comfort, durability, adjustability, and style. Our top picks provide a balance of affordability and quality, ensuring an optimal gaming experience without sacrificing your wallet.
---
Frequently Asked Questions
Here are some common questions asked about budget-friendly gaming chairs:
What is the ideal weight capacity for a budget-friendly gaming chairs under 10000 Rs?
The weight capacity of a gaming chair may vary depending on the brand and model. However, most budget-friendly gaming chairs can support up to 120-150kg.
What materials should I look for in a budget-friendly gaming chair?
Budget-friendly gaming chairs may use materials such as PU leather, mesh, or fabric. It's essential to choose high-quality materials that offer durability and comfort.
Are budget-friendly gaming chairs comfortable for long gaming sessions?
Yes, most budget-friendly gaming chairs provide adequate cushioning and support for extended gaming sessions. However, it's essential to choose a chair that suits your seating position and comfort level.
Can budget-friendly gaming chairs be used for other purposes?
Yes, gaming chairs can be used for other purposes such as office work, casual reading, or movie watching.
How long would a budget-friendly gaming chair last?
The lifespan of a budget-friendly gaming chair may depend on the usage, maintenance, and quality of the material. However, most gaming chairs can last up to 2-3 years with proper care and maintenance.